Monsters aren't always scary, are they? Well these ones aren't and they are full of LOVE!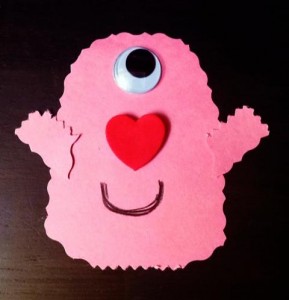 Let your toddlers and little ones help to make some little I-Heart-U monsters. :)
What you need:
pink construction paper
scissors or decorative scissors
large googlie eyes
heart foam cutouts ( or cutout hearts from red construction paper)
Black Crayon
Tape/glue
How to make the little I-Heart-U Monsters:
Cut out Monsters of all different shapes about a 1/4 of a regular piece of construction paper. (Depending on the age of your child, you can let him/her help to cut or you can cut out for them. )
Then let your child help to tape or glue on one googly eye,  and one heart for the nose.
Then have your toddler draw the letter U for the mouth!
It's that easy, and if you want to add arms or legs you can glue/tape them on too.
Related posts: