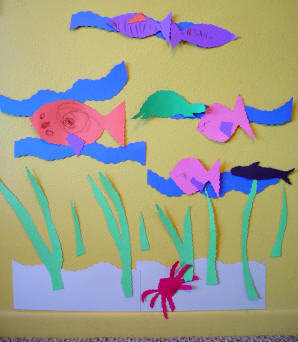 Big Wall Mural! (sea life)
Go Big! Make a fun picture on the wall and let your toddler put up all the sea life. You'll need some colored construction paper, scissors and tape. Use some decorative edge scissors and cut out some sand for the bottom, some green seaweed, some blue waves, and then all sorts of animals. Put a piece of tape on the back and let your toddler put the sea life on the wall! Let her draw the eyes on the fish and the shell on the turtle! Be creative and think of all the things that she has seen at the aquarium! Better yet, do this activity a day or so after visiting the aquarium to refresh your child's mind of what she/he saw there!

Supplies Needed-
– scissors (decorative edge if possible)
– colored paper
– tape

Tips/Suggestions-
– Talk about up and down, big and small, and all the colors you use!
Related posts: