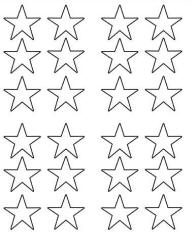 Fourth of July Handprints!
Let your toddler have some fun with handprints this holiday! Find some red and blue paint for children. Print out the sheet of small stars and cut out a few of them. Tape the stars to a white sheet of paper/cardstock with just a little piece of rolled tape on the back of each one (because you will take the stars off later). Then let your child put his handprints on the paper using the blue &/or red paint. Then take off the stars carefully and you'll have a great piece of art work of star shapes outlined with blue and red handprints.

Supplies needed:
– printer and paper to print Small stars
– white paper/cardstock
– blue and/or red paint for children

Tips/Suggestions:
– You can save the little stars for another project if they survived this one!
– Talk about the colors and the number of fingers on each hand.
---

Fourth of July mailbox decoration!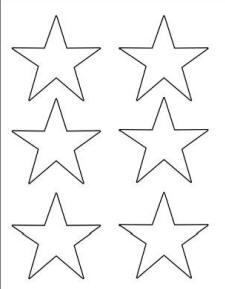 Print out the stars sheet on some white paper. Put some contact paper on the front and back of the sheet and then cut out the stars. Do the same with blue and red paper. Then let your toddler tape the red, white and blue stars to your mailbox post or mailbox.

Supplies needed:
– printer and paper to print Stars
– contact paper
– Tape

Tips/Suggestions:
– Talk about the shape of a star and the different colors…red, white and blue!
– Use the stars to decorate your tricycle or scooter for the neighborhood parade!
Related posts: