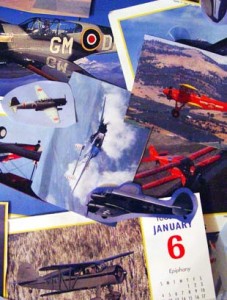 A Calendar Collage!
Save those old desk calendars (calendar- a-day) or buy one on sale! Then rip out the days and cut out the pictures to let your toddler glue them to a big piece of cardboard or a box or anything else you want to decorate. Talk about the objects, images, colors, and numbers you see while your toddler is gluing them on.

Supplies Needed-
– desk calendar with pictures on the pages
– big piece of cardboard, poster board, or other item to decorate
– glue
– scissors

Tips/Suggestions-
– Start out with gluing a few day pages (uncut) to make the first layer. Then cut out some smaller pictures for the next layer. Finally, cut out some outlined objects in the pictures to place around.
– It's okay if your toddler places several pictures on top of each other. Just let him know that he won't be able to see the ones below. He'll learn what it means. Best of all, this is something fun and creative. Go with it!
Related posts: