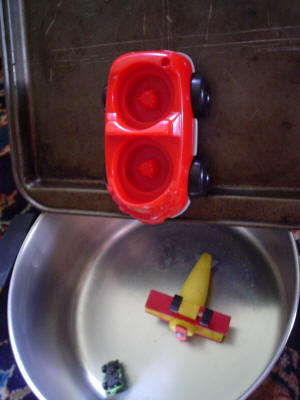 Cookie Sheet Slider!
Toddlers love to see things slide and make noise. Here's a fun way to do both and learn at the same time. Take your cookie sheet and a big pot. Put the big pot next to your couch and then prop up the cookie sheet on top of the pot leaning against the couch like a slide. Next let your toddler put some different toys, books, or objects at the top of the slide and watch them slide down into the pot at the bottom. Listen to the sound they make as they slide and when they drop into the pot! What fun!
Supplies Needed-
– cookie sheet
– big pot or bowl
– toys, small objects
Tips/Suggestions-
– Use some socks or soft things to show your toddler that they don't make as much sound as they drop into the pot
– Put a piece of no-slip material or washcloth under the edge of the cookie sheet so that it doesn't slide off the pot.
Related posts: