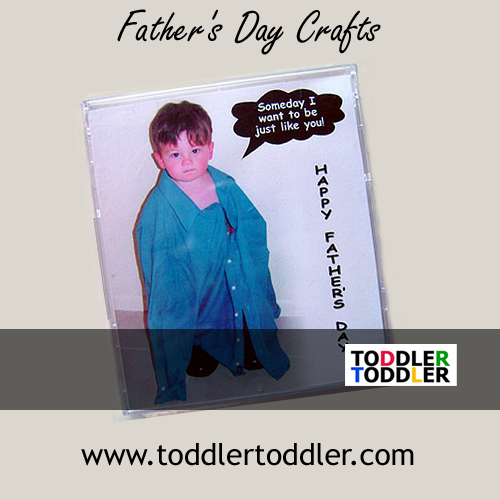 ---

Make a Father's Day Hanging Sign!
String up the letters to make the hanging like in the photo but with the greeting: "Happy Father's Day". Print out the sheet of letters and let your toddler color it with markers or crayons. Then cut each letter out and punch holes on the small black squares. Take some string or yarn and thread them through the letters as shown in the photo. Then on the special day, hang the sign up for the special father!

Supplies needed:
– printer and paper to print Happy Father's Day Letters
– markers/crayons
– scissors
– yarn/string

Tips/Suggestions:
– Talk about each letter as your toddler either colors it or as you string them together
---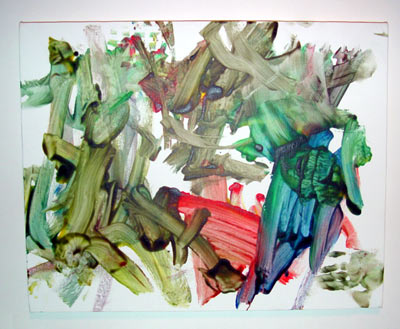 Create a Father's Day Masterpiece with Finger paints!:
Who says that finger paints can only be used on paper. Buy a piece of canvas from your local art/craft store and let your toddler paint with a paintbrush. Put down some newspaper on the floor, and put some finger paints on a plate. Then let your toddler paint on the canvas with a paintbrush or fingers. For a signature, have your toddler put a handprint in the lower right corner of the artwork. Let it dry and then give it to Daddy for Father's day and let him hang it in his office. All his coworkers are sure to ask where he got it and what he paid for it!!!
 Supplies needed:
– newspaper
– Canvas
– finger paints or other safe kid paints
– paintbrush (optional)
– wet paper towel to clean up along the way if needed

Tips/Suggestions:
– Use a permanent black marker to write the date on the work of art.
– Talk about the colors your toddler is using while creating the masterpiece
– Be creative!!! and put down enough newspaper so that your toddler can have fun without worrying about making too much of a mess!
---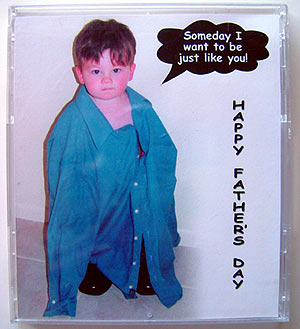 Father's Day Dress-up….CD Frame
It's time to play dress up with Daddy's clothes!! Find some shoes, shirts hats or other articles that dad often wears and let your toddler try them on. Talk about the colors of each item, and what they are. While your toddler is trying all the fun clothes on, take some pictures and print them out. Then cut them to the size of 4 5/8 " x 5 3/8 " and put inside the back of an empty cd case. You can even make a collage with a few pictures by gluing them to a piece of paper and then putting it in the cd case.

Supplies needed:
– dad's clothes/articles
– empty cd case
– printer

Tips/Suggestions:
– This make a great picture with girls and boys!!!
---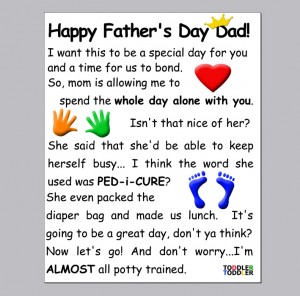 Father's Day sign/card!
Father's day isn't far away. And don't those hard-working dads deserve a little special attention on their special day?  Here's a card/sign that you can print out for your toddler to color or to transfer to a toddler t-shirt to wear on the special day. You can print it on cardstock and let your toddler color around the shapes and sign her name at the bottom. Or print the sheet on an iron on transfer sheet for printers and then transfer to a toddler t-shirt or onesie.

Supplies needed:
– printer to print the sign
– Iron on transfer sheets for printers
– crayons

Tips/Suggestions:
– Talk about the shapes on the sign while your toddler colors it
– Talk about the colors you see on the sign
---
 Looking for some activities to do with Dad? Check out 12 Toddler Activities to do WITH DAD!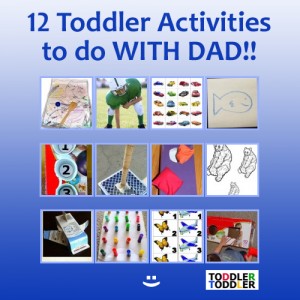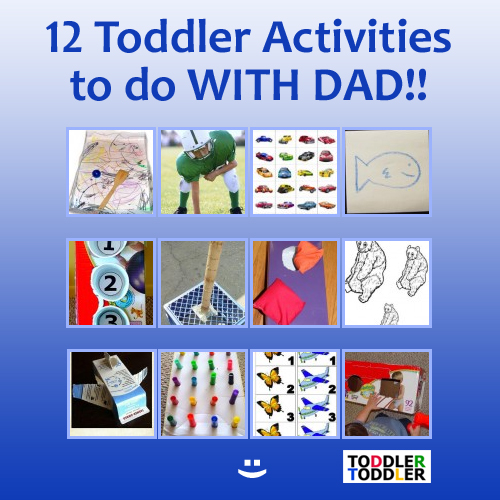 Related posts: