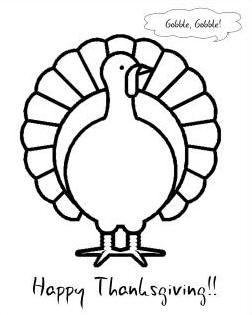 Happy Thanksgiving
Memento!
Let your toddler show the thankful spirit by coloring the turkey sheet and bringing it to the table. Talk about the colors she uses and the sound that a turkey makes. Then as guests arrive ask each one to sign the turkey sheet for your toddler, as a sort of memento from the occasion. It would be fun for her to look at when she's older!

Supplies Needed-
– printer to print the turkey sheet

Tips/Suggestions-
– After all the guests have signed the sheet,  you can put some contact paper over it so that it will save better.
– You can even make several to put at each chair for each guest! It makes a nice favor for those that are attending the feast!
Related posts: