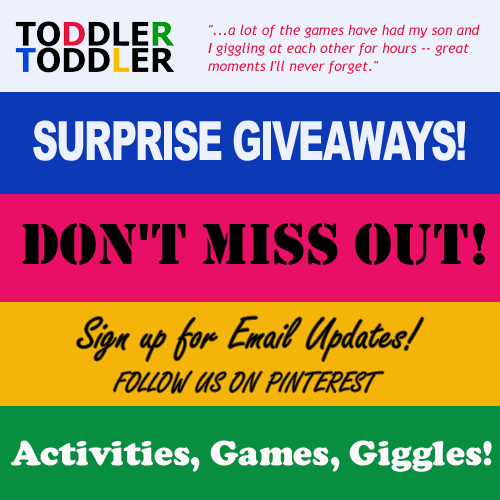 Here are some other ways to receive updates, and not miss out on new activities or giveaways:
1) SIGN UP for the DAILY EMAIL UPDATE on the BLOG.
Through our Feedburner feed, you can receive one daily email containing all our posts (activities, games, tips, giveaways):  
http://feedburner.google.com/fb/a/mailverify?uri=ToddlerToddler
(After filling out the form, be sure to check your email to verify your subscription.)
3) FOLLOW ON TWITTER: @Toddlertoddler
6) You can also check our Facebook page each week, as I'll try to post up a weekly recap each weekend.
You are all so awesome, with great ideas, nice thoughts, caring words, and excellent advice for each other. Truly awesome. I've got some exciting plans for webinars and giveaways coming up and I wouldn't want you to miss out on them.
I hope you understand. Can you comment below if you signed up for one of the options above? Just looking for some feedback. :) ~Jennifer
Related posts: