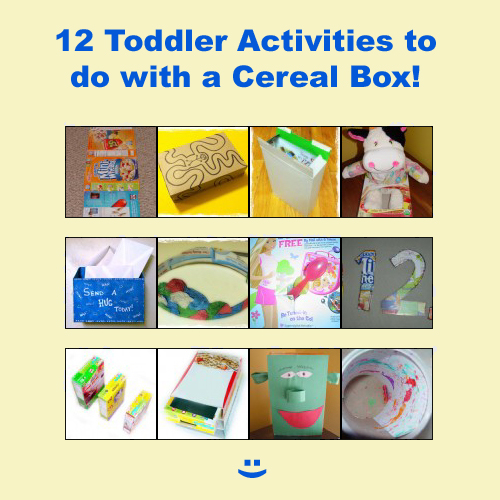 It's a good thing that you poured the last bowl of that cereal… don't throw away the cereal box! Here are some activities for toddlers that you can do with a cereal box. Kids can have fun all around the house with these activities, so you can even save up those cereal boxes for a rainy day. :)
1) Toddler Activity: Make a Gift Box from a Cereal Box (for that next birthday party, or for Father's Day coming up!)
2) Toddler Game: Create an indoor Cereal Box (Sidewalk chalk) festival in your house.
3) Toddler Game: Slide the teddy bear in the Cereal Box Car! (fun for hours and each stuffed animal gets a ride. )
4) Toddler Games: Cereal box Dominoes away! (You'll need more than one cereal box for this one.)
5) Toddler Craft: Toddler Organization with Cereal Boxes (a place to store all thos great drawings!)
6) Toddler Games: Turn your cereal box into a Learning Maze! (learn some shapes while you follow the path around the cereal box)
7) Toddler Games: Cereal Box Spoons Game (easy activity for younger toddlers)
8) Toddler/ Preschool Craft: Make some big Cereal Box Numbers! (Learning your numbers? here's a great way to display them)
9) Toddler Craft: Make a Cereal Box Shrek Puppet ( or a Monster Puppet) (Make your own puppet monster.)
10) Toddler Arts: Do the Popular Shake and Paint activity in a Cereal Box (this activity usually uses an oatmeal container, but you can use a cereal box too!)
11) Toddler Craft: Make a "Send a Hug" Mail holder ( more involved craft)
12) Toddler Craft: Turn your Cereal Box into a Fancy Tiara ( requires eating chocolate. lol)
So eat up and get your cereal box out so that you can have some FUN! :)
What is your toddler's favorite cereal?
Related posts: