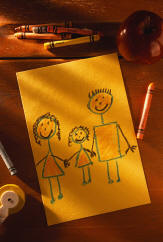 ART DRAWING POSTCARDS
Set up some paper, crayons, and markers on the craft table and let your toddler go wild! Then after she is done with all of her creations cut up some of the scribbles and glue them to some cardstock the size of a postcard. Put some contact paper over it and then address it to a favorite relative or friend. Put a stamp and let your toddler help to put it in the mailbox for the postman!

SUPPLIES NEEDED
– paper
– markers, crayons
– scissors
– cardstock
– contact paper
– postage stamps

TIPS/SUGGESTIONS
– You can even use some stickers!
– Why not write "Greetings from a Toddler!"
– Whoever receives the postcard will surely enjoy such a one-of-a-kind treat!
Related posts: