HOLIDAY WREATH (Thanksgiving or Xmas!)
So toddlers like to do what they like to do! Let's have some fun making some holiday wreaths—toddler style. Be sure to find some colorful tissue paper and you'll be ready to get started.
Depending on how big of a wreath you want to make, you can either use a piece of white construction paper or posterboard for the backing. Then take your colored tissue paper and let your toddler help to tear it up into small pieces. FUN! Then put some glue on the paper and spread it around with your fingers. Next let your toddler put the tissue paper all over the glue to fill up the whole sheet. You can even put one some more glue on top and add a second layer of tissue paper on some places. You'll see that as you add more tissue paper, the layers will make some great colors!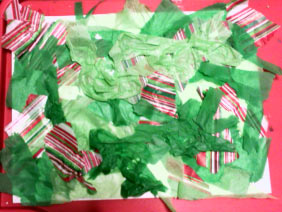 Here's the final product!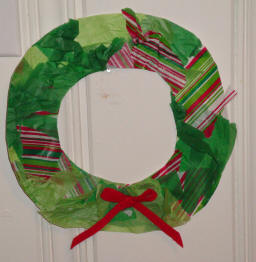 Let it dry for a little bit, then take some scissors and cut out a large circle. Then cut out a small circle inside that to make a wreath. ( You can draw on the back first before cutting out)
Lastly add a bow and hang it up! BEAUTIFUL!

SUPPLIES NEEDED
– tissue paper
– scissors (adult use only)
– glue
– paper ( poster board)

TIPS/SUGGESTIONS
– Talk about the colors you are using
– Talk about the shape of the wreath
– Make one for the Mail box!
– Let your toddler have fun and take charge…if he/she wants to put all green on one side and all red on another…then let him/her go with it!
Related posts: