Colorful Play Dough Sun Catchers!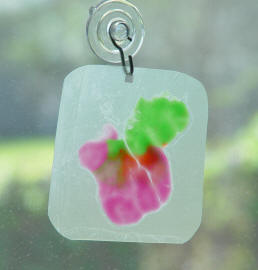 Brighten your wintry day with some fun sun catchers made with play dough. All you'll need is some contact paper and some play dough of different colors. Now, cut a small piece of contact paper about 8 inches by 4 inches fold it in half lengthwise to make a crease. Take the backing off one side and put a few different tiny balls of play dough in the middle. (Don't put too much or it will ooze out the sides.) Then take the backing off the other side and seal the play dough inside, like in the photo. Let your toddler squish the play dough with her fingers to flatten it out! When she is done squishing, make a small hole at the top and hang on a suction cup hanger on the window.

Supplies Needed-
– different colored play dough
– contact paper
– scissors
– suction cup hook or just use tape

Tips/Suggestions-
– Let your toddler pick the colors of dough to use. Encourage him to say or at least tries to say the color instead of just pointing to it.
– When the different colors blend together it might make a new color, talk about that with your toddler!
Related posts: