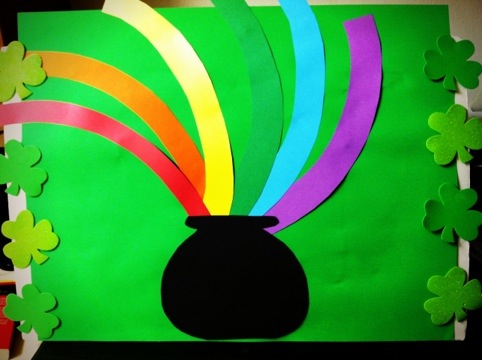 We love doing different versions of "Pin the Tail on the Donkey" games. (And we don't use pins,of course, we use tape.) For Christmas we used a gift bag that had a snowman on it and I cut out orange triangles from some orange construction paper to pin the nose on the snowman.
For our upcoming St. Patricks Day craft gathering we created a poster where we are going to 'pin' the gold coins on the pot at the end of the rainbow! For wee little ones you can cut out some circles from yellow construction paper and for older ones you can just use some small plastic coins to stick to the board.
What other ideas can you come up with for this game for St Patrick's Day?
-pin the leprechaun on the rainbow?
-pin the hat on the leprechaun ?
– pin the pot o gold on the rainbow?
:)
Related posts: