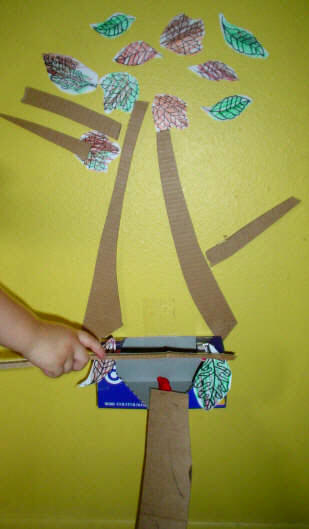 Make a Tree House! (on the wall)
All you need is a small box (I used a resealable bag box), some tape and some construction paper. Take your small box and cut some small windows or doors on the sides. (big enough to fit your toddler's little people toys to fit) Then let your toddler tape it to the wall.
Next take some brown construction paper (or cardboard) and make some branches to put on, below and around the box on the wall.
Then cut up some green paper (or print out the coloring sheet of leaves) to make leaves and let your toddler put the leaves all around the box "house".
 Great Tree House!! Now let your toddler have some fun and put his small people in the house and pretend they are in the forest!
Supplies Needed-
– small box ( empty sandwich bag box works great!)
– scissors
– brown and green construction paper  print the sheet of leaves
– tape
– little people play toys
Tips/Suggestions-
– Have your toddler let the little people pretend to climb up the wall "tree", to get into the house! Or put a ladder up!
– Ask your toddler if he/she can fit into the tree house?
Related posts: