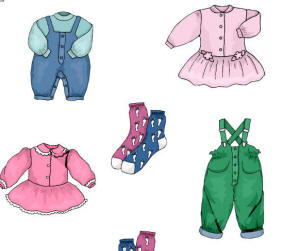 Wash Your Clothes!
Fun time to teach your toddler about washing clothes! Print out the two sheets of clothes and cut them out. Then cover each piece of clothing with contact paper and be sure to leave a border of contact paper around the clothing so that you seal the paper inside. Then take some washable markers and make some markings on top of the contact paper. Take a cake pan or big bowl and fill it with water. Then let your toddler put the pieces of clothing in the water and use a paper towel or washcloth to clean off the marks from the washable markers. After they are clean, have him put the clothes on a towel and dry them off! Next batch will be whites!

Supplies Needed-
– printer to print clothes sheet 1 and sheet 2
– contact paper
– scissors
– washable markers
– pan/bowl
– towel
– water

Tips/Suggestions-
– Talk about the different types of clothing and where you wear them.
– Talk about the different colors of the clothing.
– Ask your toddler if he/she would wear each piece.
Related posts: