Board Book Fun –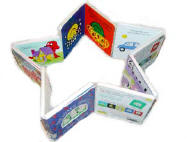 Reading is such an important part of toddler development. Sometimes it is hard to get your toddler interested in books and reading, so you might have to incorporate some fun into the event. This toddler activity will give your toddler a great opportunity to have fun with books and maybe even read a page or two! Take some of your board books, and create shapes on the floor, by opening them up and standing them up. You can make stars, squares, rectangles, and even try to build a house. Have your toddler stand in the middle while you build around him/her. Or build a square around each foot. Then have your toddler lie down and build a wall around him. If the opportunity arises, look at a page in the book and talk about what you see (animals, colors, shapes, objects).  Be creative and also let your toddlers help to build! You'll be amazed at what they come up with!

Supplies needed:
– Board books
– Floor space to build with the books

Tips/Suggestions:
– It might help to use board books that are similar in size, but it is not necessary.
– You can lay a couple of books flat on top of a shape in order to make a "second" level. Then let your toddler knock it down!
– You can ask your toddler to find the "cow" book for you to help make something.
– Or after you make a shape, read each page that you can see.

Related posts: