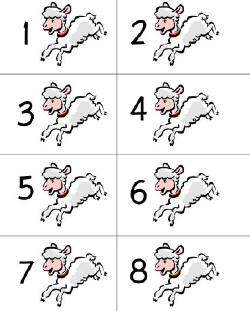 Counting Sheep on Pillows!-
This is a fun activity for your child that will combine pillow fun with counting fun! Find a couple of old pillows or throw pillows. Print out the sheet of sheep to the right and cut out the 8 sheep cards. Put one pillow on the floor and then put a couple of sheep cards on top of the pillow. Then stack another pillow on top and do the same thing until you run out of pillow and sheep cards. Then have your toddler take each pillow off to find all the sheep. As he takes a pillow off, you can count the sheep he finds. After you have found all the sheep, lay them out on the floor in order and count from 1 to 8. Repetition is the key to learning, so do it as many times as you want. You'll see that your toddler will love playing with the pillows and will be excited to see where the sheep are too!

Supplies needed:
– printer and paper to print out the sheet of sheep
– Pillows

Tips/Suggestions:
– After you find all the sheep cards, have  you and your toddler lie your heads on the pillow as you count the sheep jumping through the air.
Related posts: