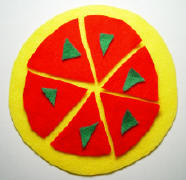 It's a Felt Pizza Party!:
Time to make a pizza, of felt, of course! Use colored pieces of felt and create your own pizza, while reviewing colors, shapes, and food names. To start, take a Yellow (crust) piece of felt and cut it into a circle about 8 inches in diameter. Then take a red piece and cut it into a circle about 6 inches in diameter. Now take that red circle and cut it in half then cut the halves into 3 wedges each ( like pizza slices.) Now you can take your other colored pieces of felt to create the toppings:
– Black for olives (cut into little pieces, squares)
– Green for green peppers, or broccoli (triangles)
– White for cheese (strips, or small rectangles)
– Dark red for pepperoni (small circles)
– Brown for either sausage or mushrooms (squares)
After creating all the ingredients let your toddler put the pizza together. First lay down the Yellow big circle, then add the slices of red felt on top and the add all the toppings as you please! You can do this again and again and keep making all sorts of different pizzas. One for you, for mom, for dad, for little brother, big brother and so on!

Supplies Needed-
– Felt of different colors
– Scissors

Tips/Suggestions-
– PLEASE SUPERVISE YOUR CHILD SO THAT HE DOESN'T PUT THE FELT PIECES IN HIS MOUTH.
– To make this even more fun, why not have your toddler put the felt pizza together on a real baking pan!
Related posts: