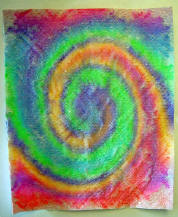 Tie-Dye fun! –
Are you looking for a crafty activity to do with your toddler? Here's something that you'll both love doing! Make a tie-dye picture. It's easy and fun. First print out the background tie-dye image. Then use a glue stick to glue a piece of paper towel on top of your printed tie-dye image. Let it dry for a minute. Then take some water in a small bowl and put in a squirt of Elmer's glue. Use a small spoon and drop the water-glue mixture all over the paper towel and watch your tie-dye masterpiece appear. When done. Let it dry on some cardboard. You just made a great piece of art!

Supplies Needed-
– Printer and paper  (Click here to print out the tie-dye background.)
– Glue stick
– Elmer's Glue
– Small spoon
– Paper Towel

Tips/Suggestions-
– If you don't have a printer, you can do this with construction paper too.
Related posts: