Moving Day!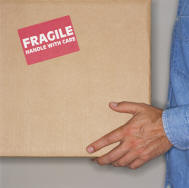 Pretend that you are moving and you need a little helper to pack some things. Take a box and ask your toddler to fill it up with all of your plasticware or tupperware. Be sure she gets all the containers and lids! Then tape it up and let her help you push it down the hall where you'll unload it to some closet shelf! Be sure to tell her how good of a job she is doing!

Supplies Needed-
– box
– plastic containers

Tips/Suggestions-
– Talk about the different shaped containers and colors. Also see if she can match the lids with the right container!
Related posts: