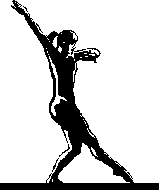 Toddler Balance Beam
Take all of those old receiving blankets and roll/fold them up to make a line on the carpet. Now hold your toddler's hand and help her walk along the "balance beam" of rolled blankets. See if she can jump on the beam, or help her do a somersault (slowly!!!). Also see if she can walk backwards along the beam. Then help her jump off at the end and give a score of 10 for her performance!!

Supplies Needed-
– receiving blankets

Tips/Suggestions-
– You can also make the line turn 90 degrees with each new blanket and let your toddler follow the line.
– Take a stuffed animal and show your toddler how to do it with the stuffed animal!
Related posts: